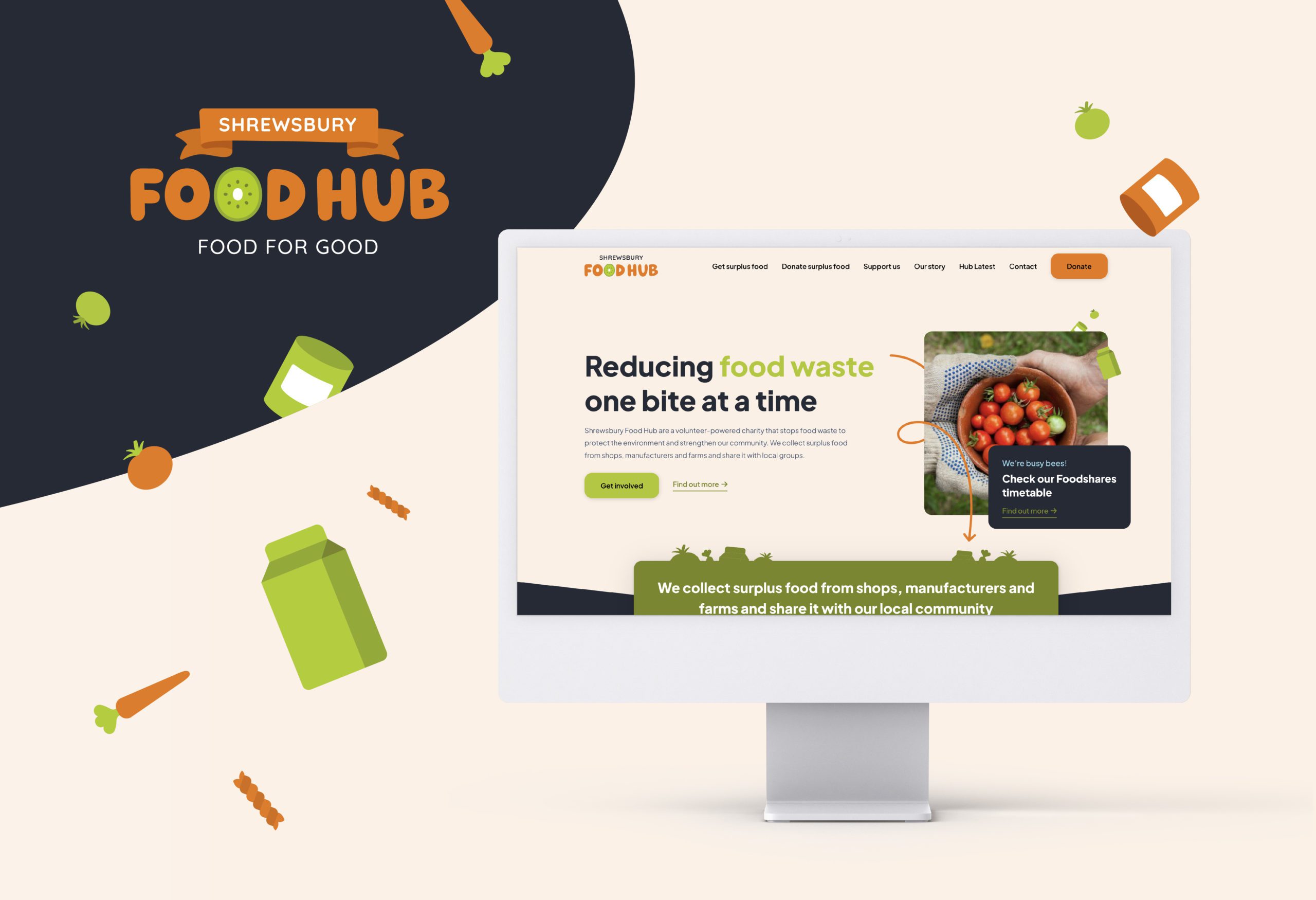 Our latest project launch has just dropped – a brand-new website for Shrewsbury Food Hub! Winners of last year's Reech and Reward initiative, we donated strategy, website, branding, video and marketing support to the Shrewsbury Food Hub team throughout 2022, helping to promote its mission to reduce food waste.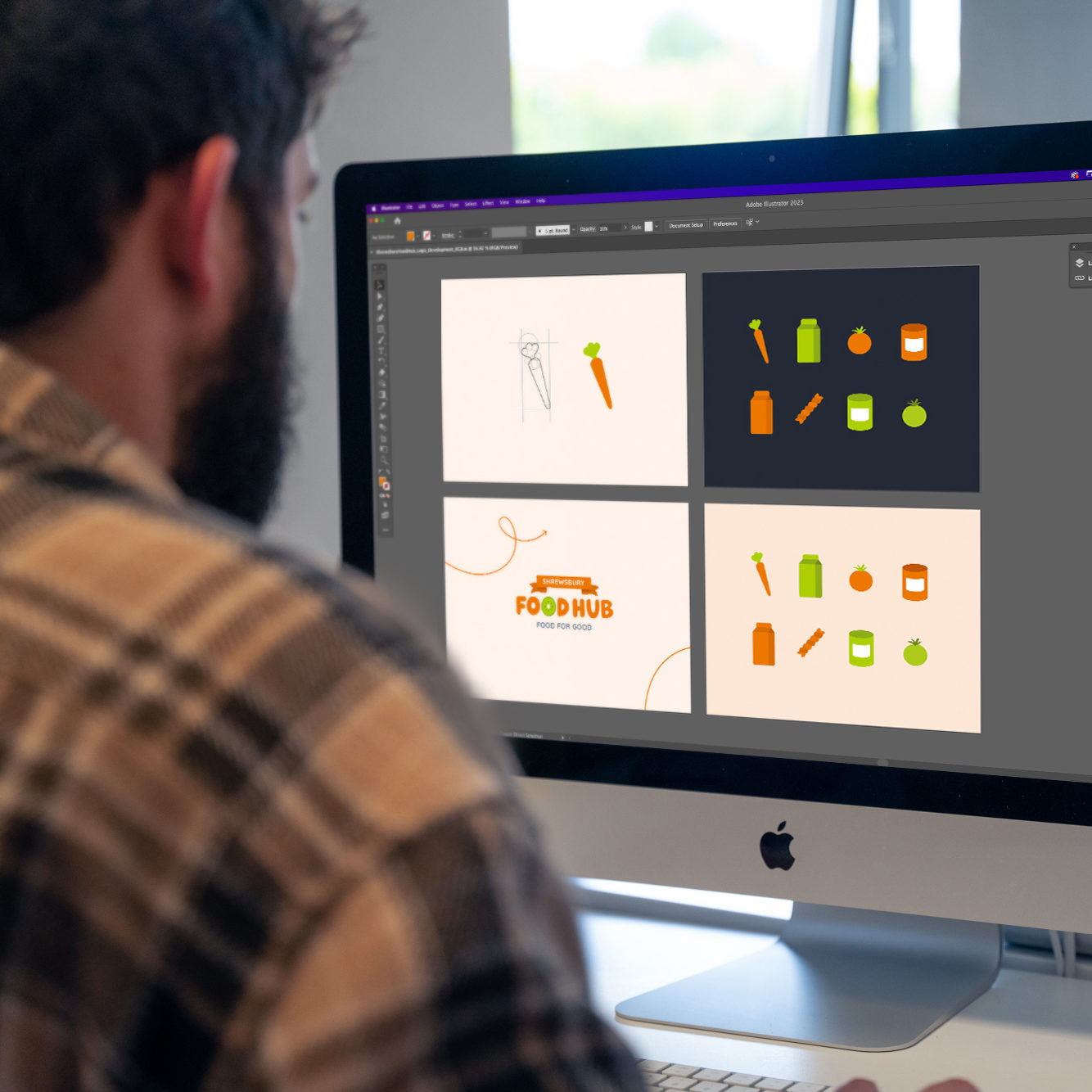 Shrewsbury Food Hub is a volunteer-powered charity reducing food waste, protecting the environment and strengthening our local community. By collecting the surplus food available locally from supermarkets and suppliers, Shrewsbury Food Hub not only supports people financially, but aims to reduce food waste in every corner of our county. Providing food to charities, schools, youth clubs and day centres, as well as hosting weekly community foodshares, hundreds of tonnes of good food are prevented from going to waste each year.
We first got to know the Shrewsbury Food Hub team during our 2022 Reech and Reward application process, our own Charity of the Year initiative where we offer time and resource to one local charity each year. The team applied for our support to hit two key objectives:
To differentiate the Hub from a food bank and promote the full scope of work the charity undertakes

To create a new campaign to motivate 1,000 families in Shrewsbury to reduce their food waste at home, protecting the environment and saving them money
Shrewsbury Food Hub's application outlined how our services could benefit the charity and made our top 3 shortlist from the wealth of impressive entries we received. After a pitch style presentation process, the Shrewsbury Food Hub team knocked our socks off with their passion, unwavering vision and commitment to both our local community and the environment. We started working together to tell their story and promote their cause in the clearest and most impactful way possible.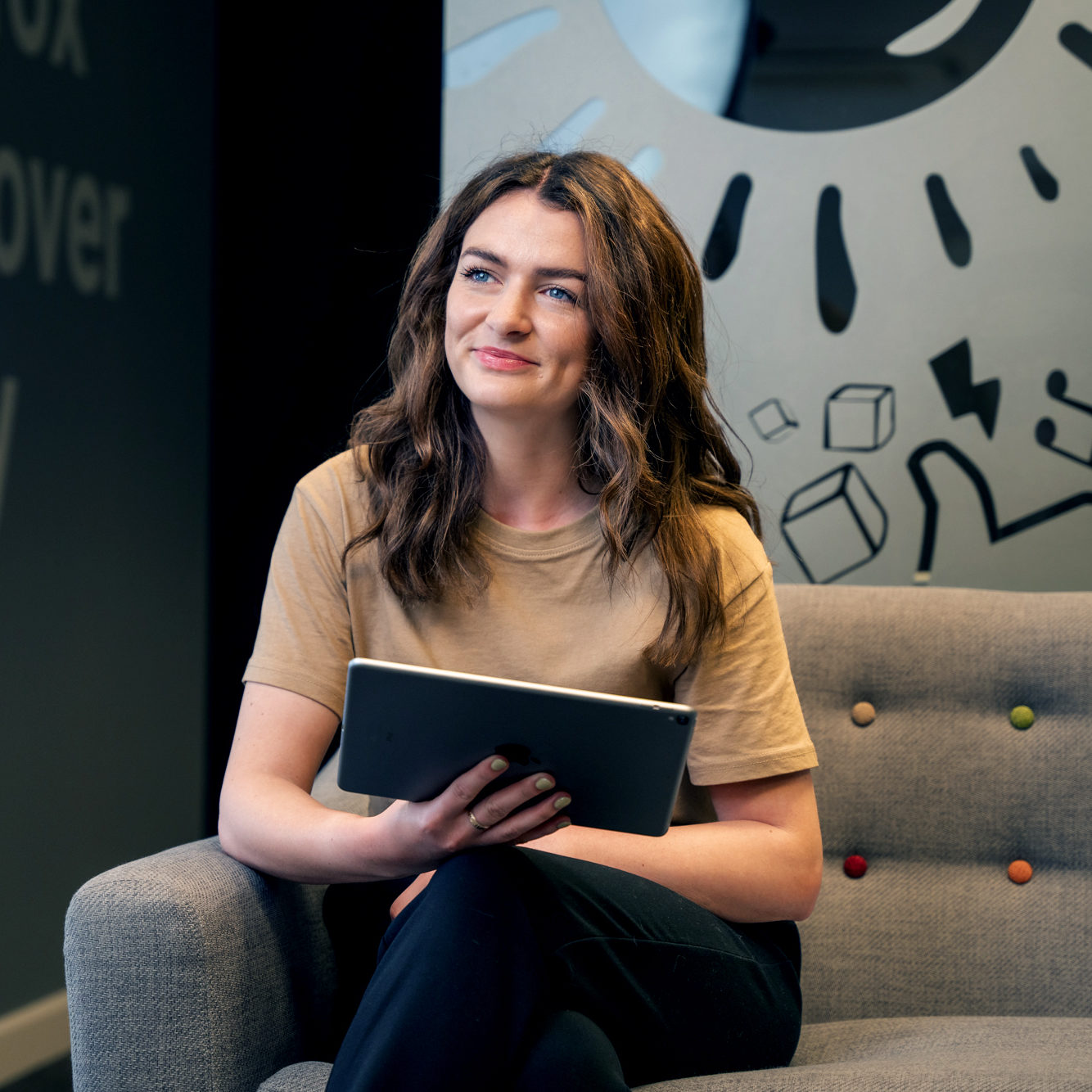 "It's been brilliant working with Shrewsbury Food Hub, the first charity we've supported through our Reech and Reward initiative. Not only has it been great to develop the new website and support with the promotion of such an impactful charity, but it's given the Reech team the chance to reflect on our own behaviours and how we can contribute to reducing food waste." – Faye Hudson, Head of Client Marketing.
Touching every team of experts within our agency, our challenge was to help Shrewsbury Food Hub shout about the good work they do and provide a place to educate on and encourage positive behavioural changes around food waste. Not to be confused with a food bank, Shrewsbury Food Hub supports those in need, but also operates to reduce food waste across the local community more generally through its foodshares and work with local groups and businesses. The different strands of Shrewsbury Food Hub's work and the impact it makes had to be front and centre.
After simplifying the Hub's branding and working with our marketing strategists, we started work on a new website for Shrewsbury Food Hub. Featuring bespoke website design and development, landing pages, video, animation, email support and Salesforce integration, we made sure that the charity's goals and mission were communicated simply yet effectively.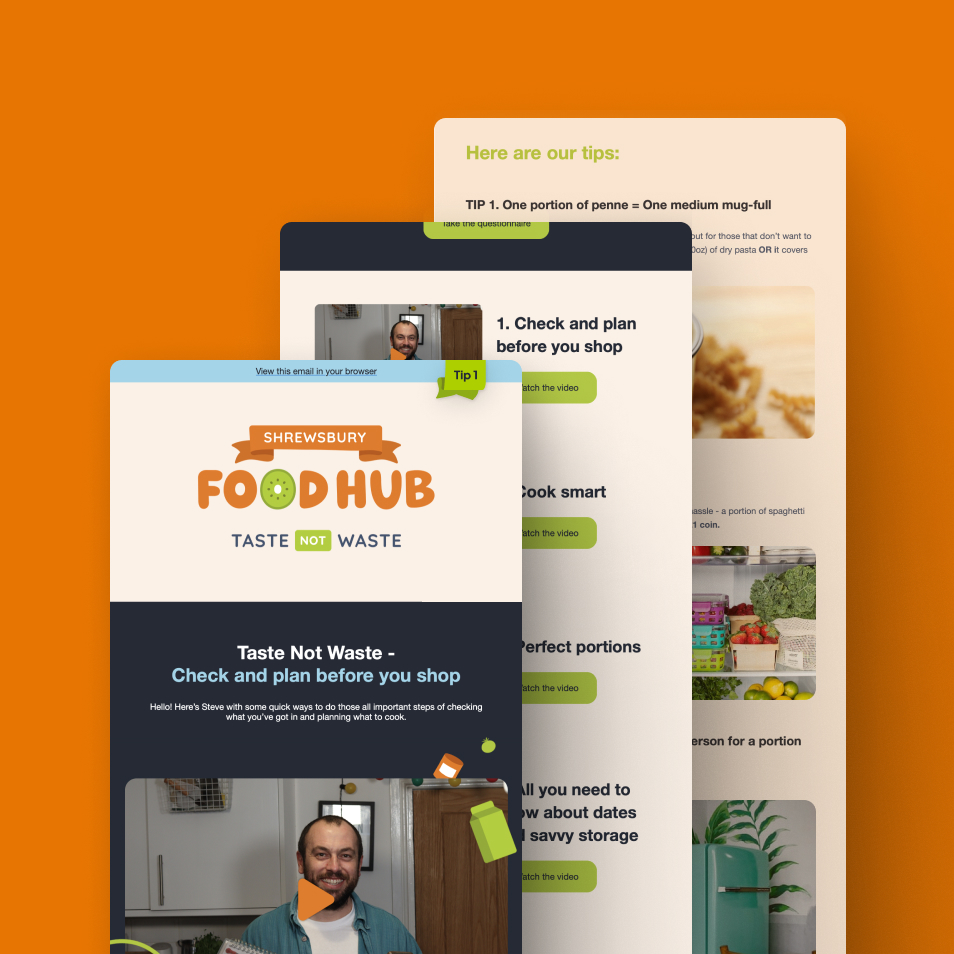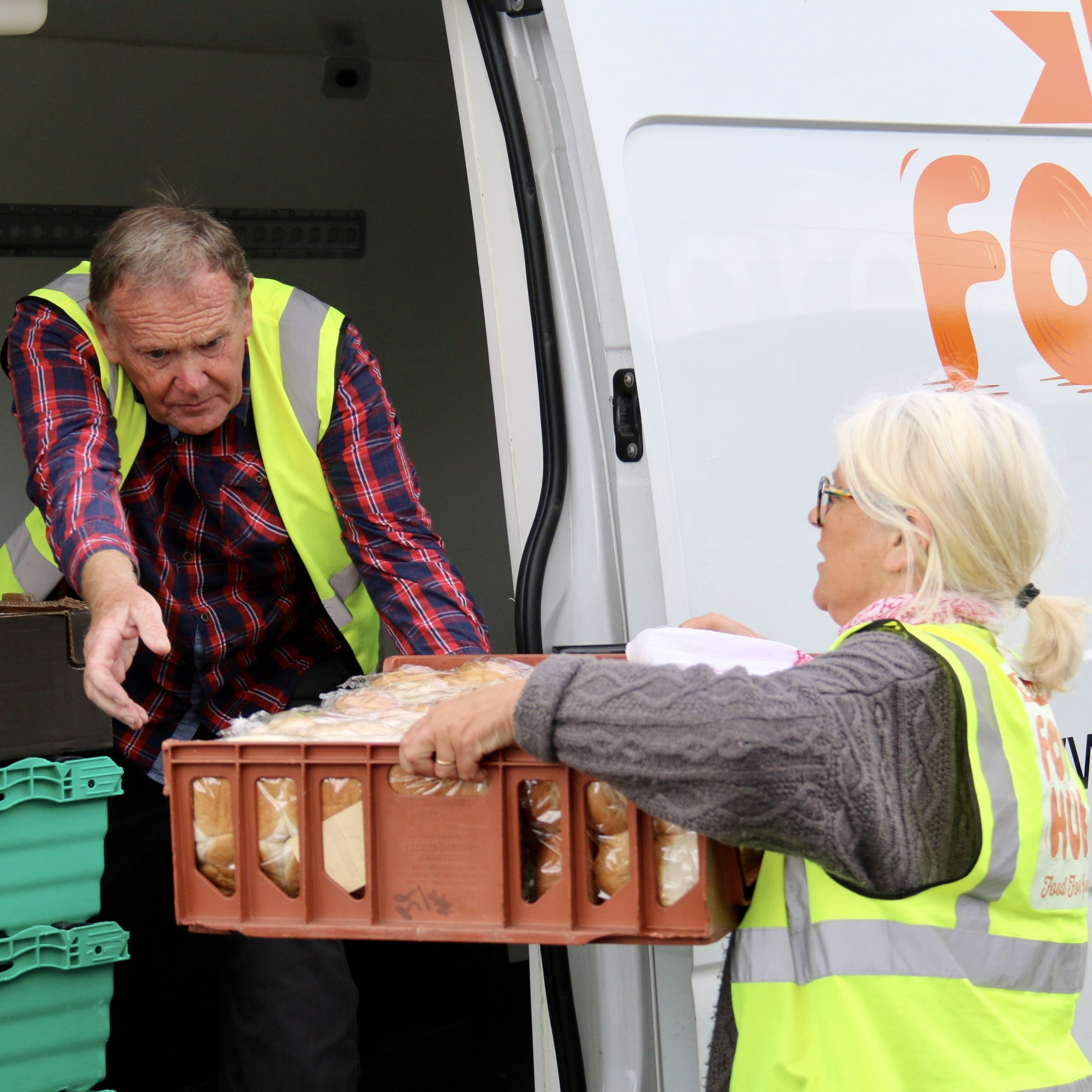 We also worked with the team to create the Taste Not Waste campaign, a challenge to local families, groups and businesses to reduce their food waste at home. By sharing waste-saving tips, tasty recipes with leftovers and motivating people to make small changes, the campaign spans the Hub's website, social media, community outreach and email marketing.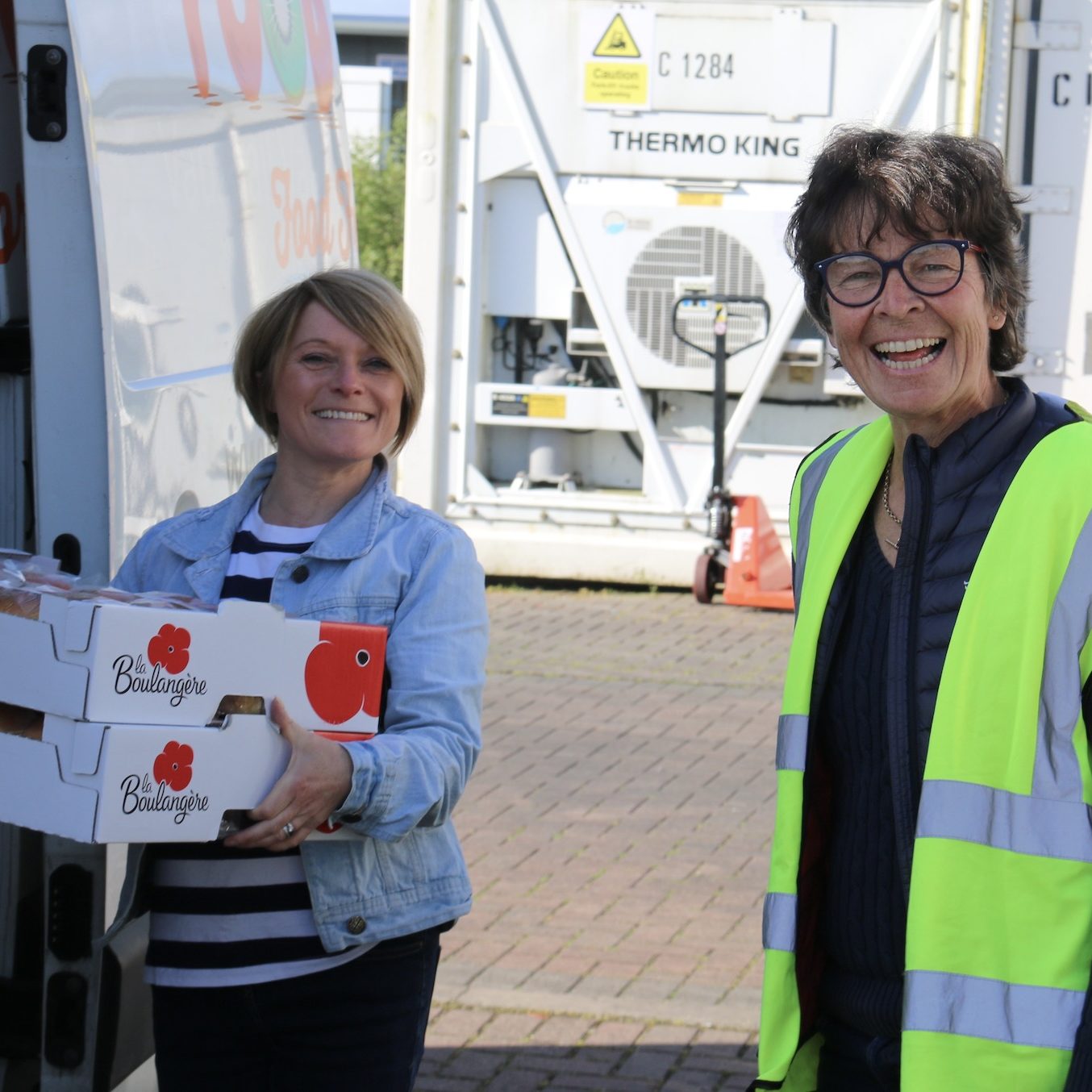 "At the very first meeting, we felt Reech had understood what we were all about and what we were trying to achieve. Our old website didn't reflect who we are as a charity and we needed guidance on how to launch our Taste Not Waste Campaign. We had confidence that they would do a great job, and we haven't been disappointed.
They had some brilliant ideas for how our website could work better for people wanting to find out about what we do. They have brought it to life and it now shows who we truly are. Their help with our Taste Not Waste campaign has been above and beyond too. As well as being a talented bunch, they have been very kind and patient! It has been a joy to work with them." – Lois Winstanley, Shrewsbury Food Hub
You can see more from the project by viewing the full portfolio here and head to the Shrewsbury Food Hub website to learn more about the charity.
Could your charity benefit from our Reech and Reward initiative, securing £10,000 of marketing support for 2023? Perhaps you're looking to redevelop your website, create a new awareness campaign or refresh your branding. Maybe you need our help with a combination of things? 2023's Reech and Reward applications will open in February so stay tuned for more details by following us on our social channels.