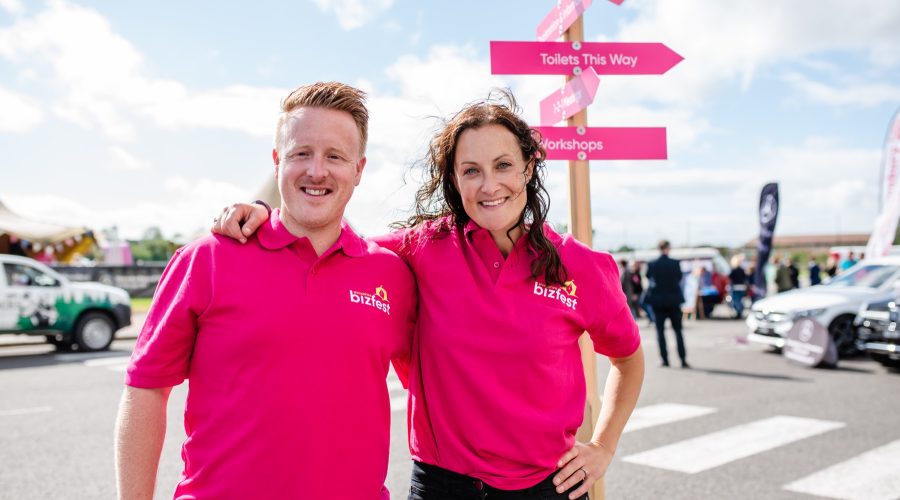 Shropshire BizFest 2019 attracted over 600 attendees this year with 11 leading Shropshire businesses sponsoring the event, presenting seminars, workshops and 1-2-1 sessions!
So how did we get 600+ people to attend?
Our marketing team at Reech created an effective marketing strategy that gave Shropshire Bizfest both a strong online and offline presence. This was accomplished through a number of ways. First of all, we created a brand to create a visual presence for the event that was easily recognisable.
Once this was in place, our development team created a bespoke website that allowed people to RSVP and book place at the event and acts as an information hub for Shropshire Bizfest. The website held all of the videos, photography and news articles about the event and each of the sponsors. We set up social media platforms across LinkedIn, Facebook, Instagram, and Twitter to share all the content we were producing for the event and to establish a target audience. Read below to find out more about Shropshire Bizfest's marketing strategy.
Brand identity…
To begin, we gave Shropshire Bizfest a visual presence by creating its very own branding, implementing this across all of the signage and other marketing materials associated with the event.
Bespoke WordPress website…
To create an online presence our team of designers and website developers, created a bespoke Shropshire Bizfest website that was on brand, responsive and user-friendly. The website was used as a platform to hold all the relevant information about the event, the sponsors, food and drink, activities, videos, news articles and where you could RSVP your place at the event.
Content creation and distribution…
We published numerous articles over the 2 months of build-up to the event to promote each of our sponsors and the activities that would take place throughout the day. 11 leading businesses from across Shropshire signed up as sponsors of the event. As part of the sponsorship package, we created individual videos and articles for each sponsor detailing their involvement.
Strategic partnerships…
Our partnerships with Shropshire Festivals and the Shropshire Chamber of Commerce helped raise the profile of the event, increasing its brand awareness by sharing event information across their social media platforms. We also have a relationship with Shropshire Business Magazine who promoted the event in their printed magazine and also on their website.
Social Media campaigns, advertising, and distribution…
We created Social Media accounts across a range of platforms including; Instagram, LinkedIn, Twitter and Facebook to boost our online presence by sharing news articles and showcasing our sponsors and activities that were taking place. We generated a variety of engaging content on these platforms such as videos, graphics, news articles, and imagery. We were able to boost our Social Media interaction through paid advertising campaigns on Facebook and Instagram.
Dedicated email campaigns…
We harnessed the database of BizFest RSVP's, Reech, Shropshire Festivals and Shropshire Chamber contacts to distribute engaging content through email campaigns. These regular updates kept people up-to-date with seminar details, sponsors, food & drink exhibitors and timings for the day. There were also strong call-to-action for people to book-onto activities, schedule a one-to-one meeting, or attend a workshop.
Strategic print advertising…
We created a suite on printed advertisements and advertorials that were printed in the counties' lifestyle and business magazines as well as featured in the Shropshire Star business supplements. This allowed us to reach a typically more traditional audience and reinforced our commitment to promote the event across both online and offline mediums.