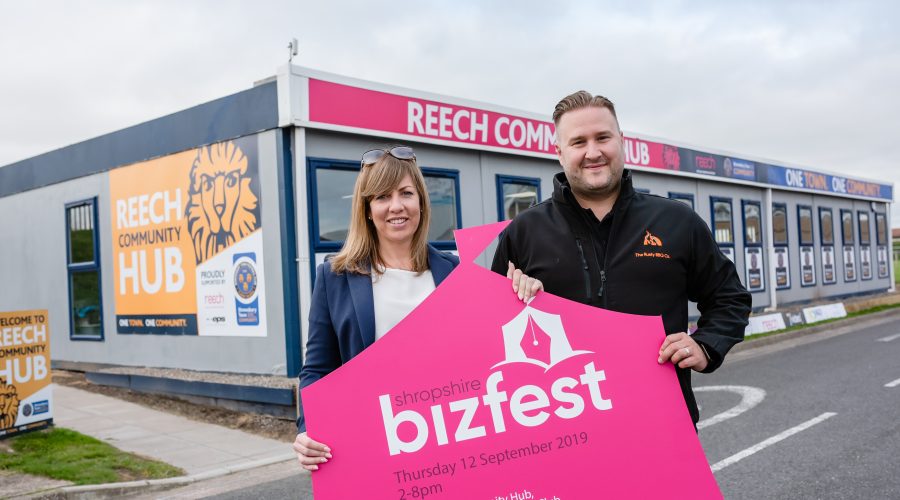 With only two weeks to go until one of Shropshire's largest networking events, Shropshire Bizfest 2019, here's an update on what's to come!
Shropshire Bizfest has already received a lot of traction, with over 350 people from across the county signed up to attend with more signing up every day.
The Shropshire event, organised by our team here at Reech, Shropshire Festivals and Shropshire Chamber of Commerce, is sponsored by Radius, Hencote, WPG, Mercedes Benz, 7video, EPS, Henshalls, Whittingham Riddell, Lanyon Bowdler, Nick Jones Wealth Management, Shropshire Business Magazine and Gareth Hughes Action Coach.
A range of seminars and workshops will be available on the day from leading Shropshire businesses including Corporate Social Responsibility, Connectivity in Shropshire and Contracts of Employment. Individual 1-2-1 meetings will also be on offer.
Food and Drink sponsors…
This year, Shropshire Bizfest has gone above and beyond with food and drink, with many suppliers providing a range of different products. Our food and drink sponsors include:
Entertainment
So far Shropshire Bizfest has four confirmed musicians lined up throughout the day – with more to be announced. This year's line up includes Top Banana, Reverie, Katie Brisbourne, Steve Jones Acoustic and a DJ set. In addition to this, we also have a selection of other activities throughout the day including office chair racing, stadium tour, tug of war (hosted by Mercedes-Benz), virtual reality headsets, make your own ice-cream, wine tasting, firework photobooth, axe throwing, design your own vehicle graphics and many more!
"Shropshire Bizfest has so far been a great success with over 350 already signed up to attend the event… and more people signing up every day. We have a fantastic range of sponsors from across Shropshire supporting the event by holding seminars, workshops, 1-2-1 meetings, supplying an array of food and drink and all for free. This year's Shropshire Bizfest is truly an event you don't want to miss out on."

Rob Hughes, Managing Director at Reech and Creator of Shropshire BizFest
"We have a fantastic line-up of music throughout the day, from acoustic bands to a DJ set! In addition to this, we have a great selection of food and drink from all a range of companies across the local county."

Beth Heath, Director at Shropshire Festivals
For more information about the event, please visit www.shropshirebizfest.co.uk or contact us.