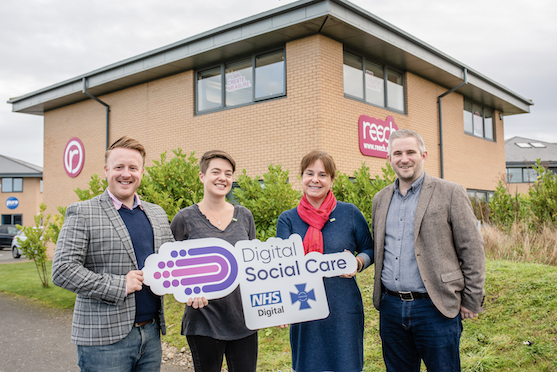 Earlier in the year, we were invited to tender for a new digital project commissioned by NHS Digital and the Registered Nursing Home Association; and are delighted to announce that we were successful in winning a 12-month contract to support the organisation.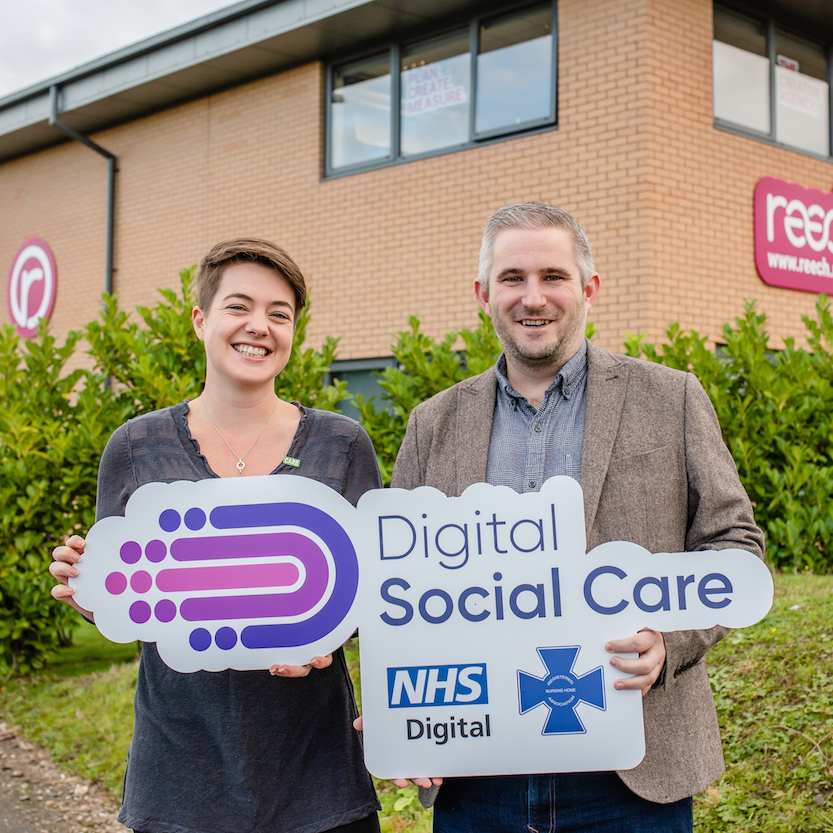 As part of the NHS England Five Year Forward View, the NHS is committed to taking decisive steps to break down the barriers in how care and support are provided, especially in health and social care. The secure sharing of information is a critical element of reducing that barrier. Despite pockets of good practice, information sharing with care providers had dramatic room for improvement. Within the adult social care provider sectors, the current digital maturity is considered low when compared to those of health; the brief was to design and develop a platform for sharing knowledge and best practice to digital technology for the sector.
After many months of development, we are proud to launch a new website and brand identity for Digital Social Care. Our talented team of designers and digital specialists have delivered a platform that has been created to engage with NHS Digital, NHS England and the Department of Health and Social Care as well as informing care organisations on the digital infrastructure available to improve health and social care services in England.
A new brand identity
We followed our strict process of Plan, Create and Measure when creating an identity for the organisation. This included assisting with the naming process, market research, brand strategy and the development of the brand mark. We were tasked with creating an identity that resonated with the core audience; a brand that could be considered flexible and would easily communicate to the different user groups within the sector. The brand had to not only engage with the core audience but also champion the adoption of digital services within the social care sector.
We presented a variety of different brand concepts throughout the branding process; however, the final logo was chosen as it incorporated the Digital, a hand to signify Care and dots to represent Data. The branding process included a complementary colour palette, iconography and typeface as well as branded touchpoints such as Social Media styling, business stationery and exhibition materials.
A user-led approach to Design
As a company, we adhere to design standards and processes in the design, development, testing and post-deployment phases. However, the Digital Social Care project had a particularly unique set of requirements and had to comply with Government Digital Services (GDS) framework.
Government Digital Services (GDS) is a framework for agile experience design projects. The stages are discovery, alpha and beta. These are not dissimilar from a traditional user experience design process, but with a focus on delivering a built solution from the user needs that is found through discovery.
Typically, a business would come to us with a brief, or at the very least an outline of their requirements – we would then perform desktop research, host a discovery session and scope the project. GDS focuses on an extended period of up-front research, time dedicated to scoping and understanding the project, defining user needs, writing user stories and deciding what needs to be completed to build a minimal viable product. This is different from normal projects because there isn't a prescriptive statement of work to follow and a lot of our clients don't currently work this way, so trust had to be built quickly.
Using an agile build process, we quickly developed a BETA platform that was presented to a selected group of industry professionals. The team that formed the user group were from a wide range of demographics within the UK care sector UK; all of whom were tasked with using the website, following a user-led journey of tasks and feeding back on their experience. Understanding our users, meant that we understood what problems they encountered, allowing us to quickly act on the feedback, make a plan to act on their findings and ultimately improve the experience of the website.
A bespoke WordPress website
From the beginning, we never wanted to restrict our clients by tying them to a proprietary web development framework, this is why WordPress an open-source website creation tool has been our preferred web development platform for over 7 years.
WordPress is very easy to use as it has an intuitive interface (WYSIWYG editor) making the adding of new pages, posts, images etc. relatively quick and simple, and using the bespoke templates created by Reech the time required for formatting is minimal. We have expertly crafted 100s of websites since our formation in 2009; the majority of these websites have been developed on the WordPress Framework, our chosen content management system (CMS).
Throughout the GDS stages, we had the benefit of knowing what the users wanted and what we needed to build. We migrated the agreed design and functionality onto a mobile-friendly responsive WordPress back-end platform, populated the website with industry-leading content, and provided final user acceptance testing (UAT), interrogating the system before the website officially launched.
Providing ongoing support
We are continuing with our efforts to continually improve the experience of the website by acting on user feedback; ensuring the site is easy to use, compatible with all browsers and devices and is current by providing up-to-date statistics and the latest legislative information.
The next phase of the project is to develop a Digital Maturity Self-Assessment Questionnaire a series of Q&As to tailor resources (and website content) relevant to the user's answers. This will provide information on a user's digital maturity, and information on how they can enhance their digital footprint. The questions will form a series of yes/no and/or numeric questions that would display the user's answers as a downloadable document with a risk analysis and either a traffic light or positive/negative responses to each question.
Digital Social Care is a partnership project providing support to social care providers on technology and data sharing. Our website is a key platform for engaging with people working in care settings and we hope it's a valuable resource for people using technology to support high-quality care.

Katie Thorn, Digital Engagement Manager at Registered Nursing Home Association
The Digital Social Care project is an exciting partnership between the national care sector representative bodies and funded by NHS Digital. We needed an agency who understood the private, not for profit and public sectors; who could work collaboratively to deliver on time and on budget. Reech stood out from the agencies invited to pitch for the work, including London based agencies, with their immediate grasp of the project and understanding of what needed to be achieved within a limited budget.

Mandy Thorn MBE, Chairman at Marches Care Ltd
Having an opportunity to work with some of the largest and well-known organisations in the UK, such as the NHS, has been an absolute pleasure for myself and my team. We have worked closely with industry-leading individuals who understand the array of technology stacks available, are open to pushing the boundaries of design, user experience and function and have listened to our suggestions throughout the whole process.

The project has pushed the boundaries of our knowledge; we have thoroughly enjoyed working to such a strict process of development and feel thrilled that we have managed to develop an industry-leading website that conforms to the same standards as the NHS, GOV.UK and Number 10 Downing Street. We thoroughly look forward to enhancing the website over the next 12 months, deploying new functionality and implementing feedback from the website's users.

James Brinkler, Technical Director at Reech
Take a look at the project for yourself!
Visit www.digitalsocialcare.co.uk. Can we take your marketing efforts to the next level? Discover our full-service listing or get in touch with us today – simply call 01743 296700 or email [email protected]