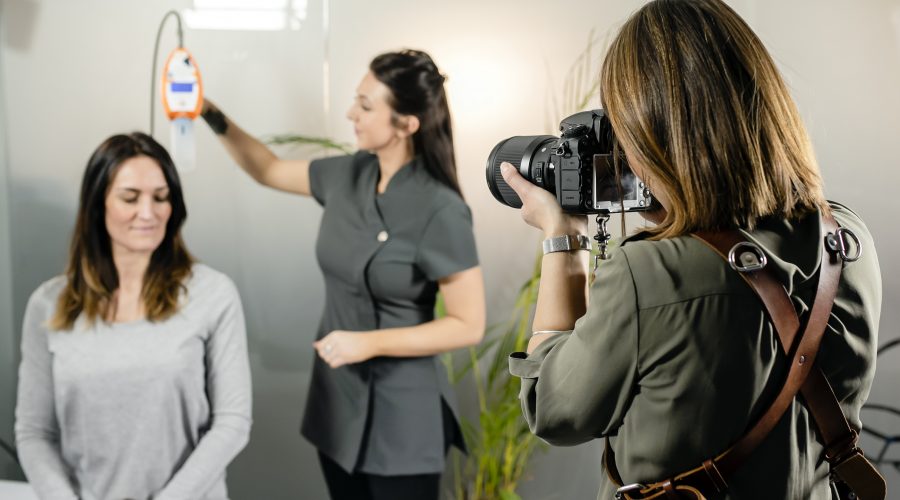 Reech is proud to be one of the only marketing agencies in Shropshire to have an in-house photography studio.
Our bespoke studio was designed and created in 2018 and provides professional in-house photography services, perfect for staff headshots and product photography. The studio is equipped with a selection of coloured backdrops, natural and artificial lighting and an exceptional range of camera equipment.
The high-quality images we produce are fit for all forms of marketing material from your website and social media platforms to your brochures, signage and exhibition stand.
We also provide an excellent first-class editing service after every photo shoot, allowing us to professionally refine your photography.
Photography is one of the wisest investments when it comes to your business. It's important to make sure you have high-quality images on both your digital and print-based work that correctly represents your business and its values.
Our new studio is completely versatile, and our lights can be used both in our studio or on location. Why is good photography so important? Good photography is invaluable – humans react far better to good imagery than they do content. It's the first thing they look at when they click on your website or open your brochure.
Your photography needs to send a strong message to your audience, and should therefore include:
Emotion – Your photography should portray emotion to reinforce a point to show off your products. People look for emotional value and they make buying decisions based upon their instincts.
Relevance – Relevance is key. If your imagery doesn't relate to your copy, business or even your industry then your customers will end up feeling confused and will therefore neither use nor trust your website. Relevant images act as signposts to help users navigate to the page they're interested in.
Remember… the stronger your photography, the more likely people will remember you!