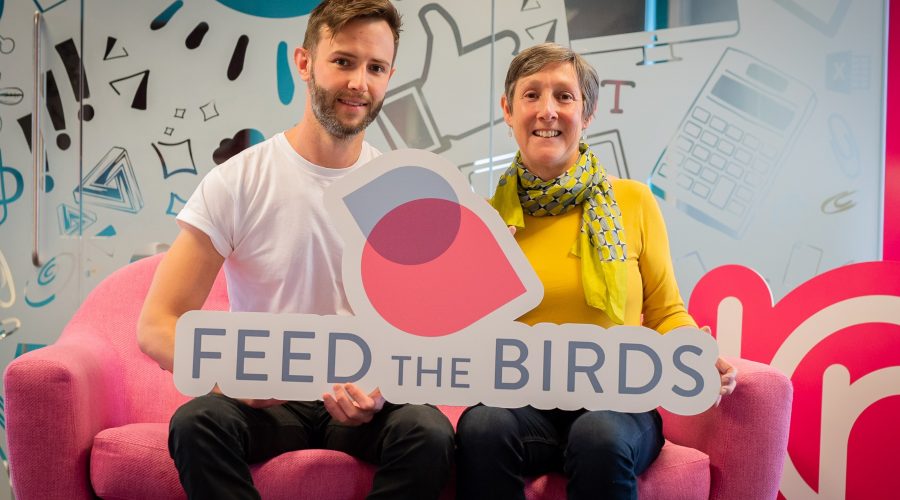 We are delighted to announce that we have designed and developed a new brand for Shropshire Wildlife Trust's project – Feed the Birds.
To mark 10 successful years in business, we have been giving away a different service each month to businesses and charities across Shropshire. Shropshire Wildlife Trust were the winners of our first month's giveaway – the design of a new brand. The charity wanted a stand-alone logo for their recent Feed the Birds project.
Feed the Birds is a ground-breaking project which uses a nature-based approach to tackle health issues. The project aims to help people who are lonely and/or socially isolated, get closer to nature by feeding the birds in their garden with the help of a volunteer who visits each week.
Shropshire Wildlife Trust came to us with an open brief for the project, giving us free rein over the design, colour palette and typefaces. We designed and presented eight brand concepts for the charity, each design route pulling different key messages around Feed the Birds to the fore.
Three chosen concepts were then further developed to create a recognisable and receptive brand that could be effectively spread out across future marketing materials. The final design was then printed onto a large foamex board – a great marketing tool to showcase at upcoming events.
"We felt it really important to mirror the effective but simple way 'Feed the Birds' tackles loneliness through birdwatching and volunteer work in a professional but approachable way. We hope that the new brand helps to further their worthwhile cause and does the hard work by the charity and volunteers justice. Our studio certainly had a lot of fun and we can't wait to see it out and about."

Adam Preece, Head of Design at Reech