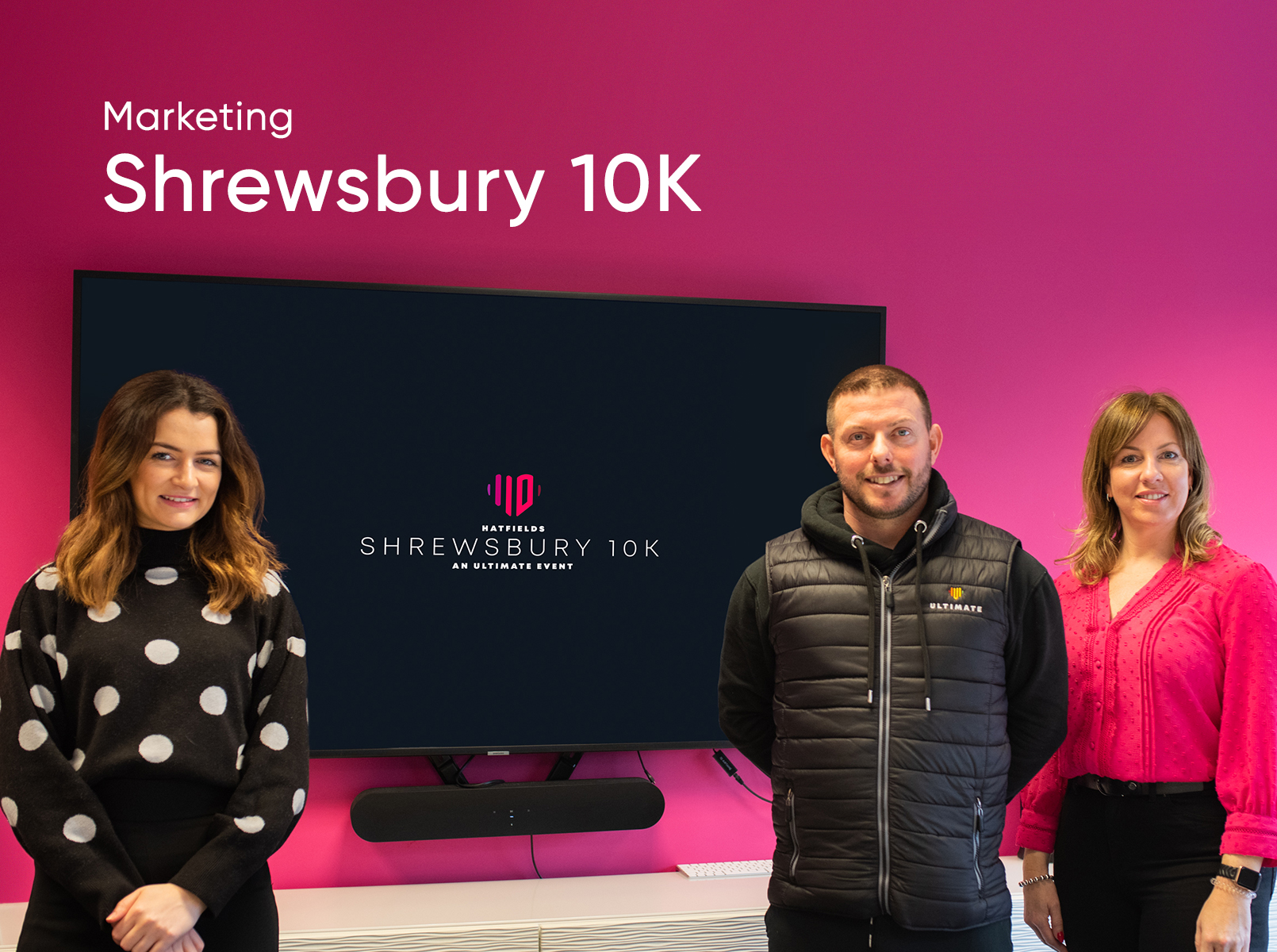 The much-loved Hatfields Shrewsbury 10K road race event takes place this Sunday 13th March 2022 and we're super proud to sponsor this event for the fourth consecutive year. Part of the Running Festival and hosted by Ultimate Fitness, the Shrewsbury 10K is an annual event that sees thousands of avid runners come together to complete a scenic route that starts in the iconic Quarry Park and loops around the town centre.
Each year, the popular event brings a whole heap of new visitors to Shrewsbury, with many participants running for local charities. Since 2018, we've proudly sponsored the Shrewsbury 10K as part of our commitment to supporting Shropshire. Off the back of a global pandemic, a time which has seen lots of local businesses experience the devastating impacts of store closures and lockdowns, it was really important that we got behind the Shrewsbury 10K event once again to drive new footfall to the town.
Working with Ultimate Fitness
In the lead up to the event, our creative team have designed several assets that have been instrumental in promoting Shrewsbury 10K, including the design of the t-shirts, a dedicated race day programme, and promotional social media assets.
Our sponsorship also forms as part of our ongoing working relationship with Ultimate Fitness. As their official marketing partner, we've worked alongside its Founder, Simon MacDonald, to develop a new website and brand identity for Ultimate Fitness. In the below video, Simon talks about his experiences working with Reech.
Race Day Programme
Our Creative team updated the Shrewsbury 10K programme for 2022 so every runner taking part or spectator watching from the sidelines is up to date with all of the crucial on-the-day information. We also designed a bespoke map that outlines the race route, allowing all participants to get to grips with where both the start and finish line will be located. Alongside all of the helpful info relating to the event, the programme also features a range of promotional adverts from local businesses.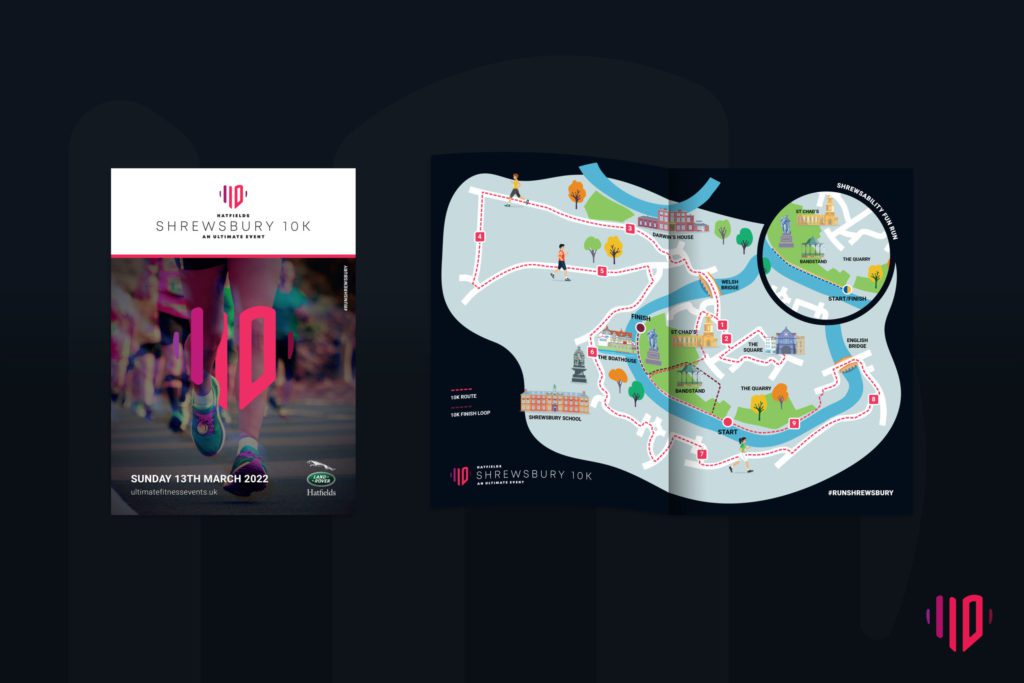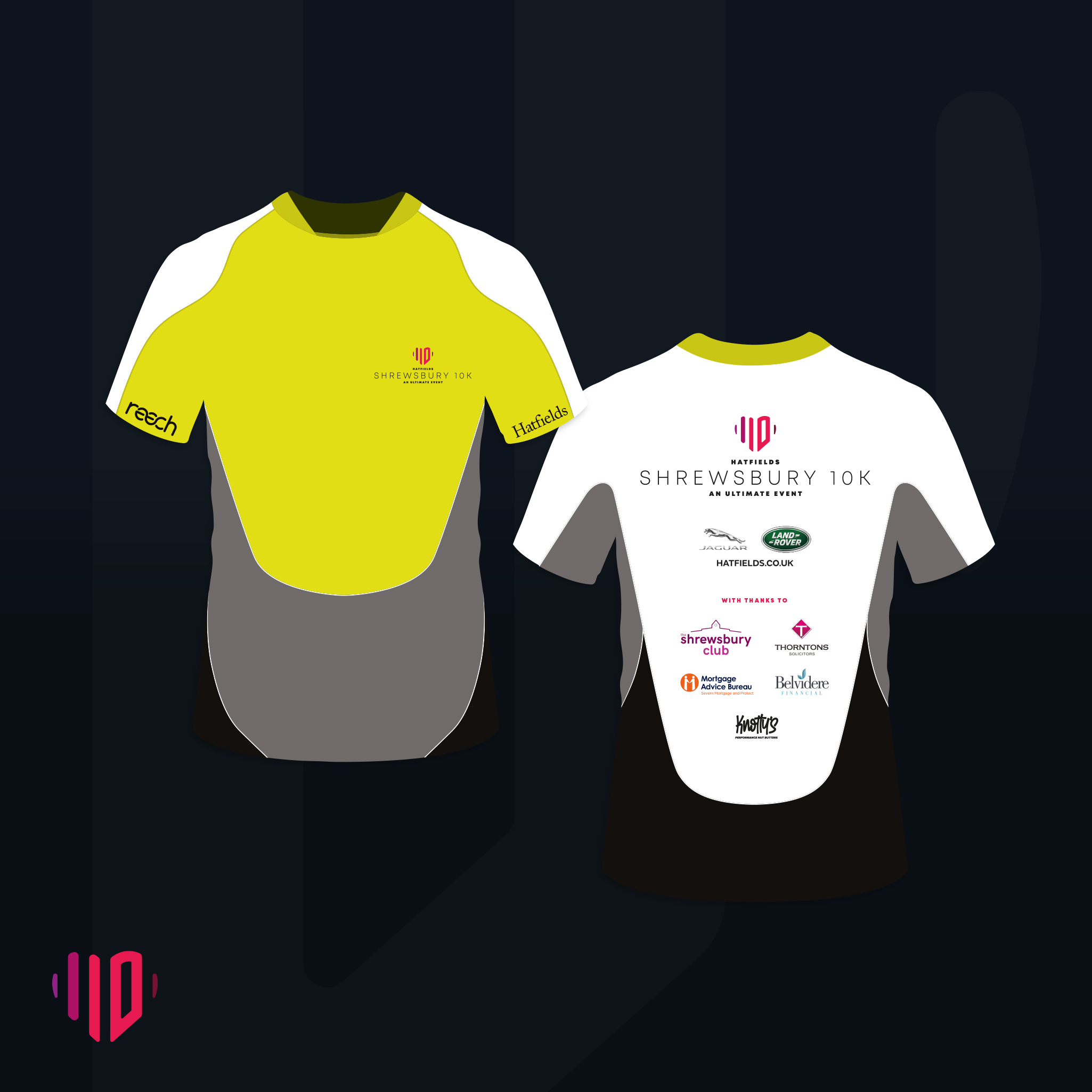 Race Day T-shirts
After all their hard work, it was important that each Shrewsbury 10K runner received a well-deserved prize so our team of Designers also gave a little TLC to the event t-shirts.
With clean-cut lines, a contrasting, bright colour palette, and sufficient space for all the corporate sponsor logos, the 2022 Shrewsbury 10K t-shirts are contemporary yet comfortable and sure to stand out!
Social Media
To promote the event and provide a source for regular race day information and updates to those taking part, we also created a series of striking social media posts. Taking inspiration from the pink and purple hues used within the Shrewsbury 10K sub-brand logo, the social media posts have been cleverly designed to appear entirely unique to the specific event.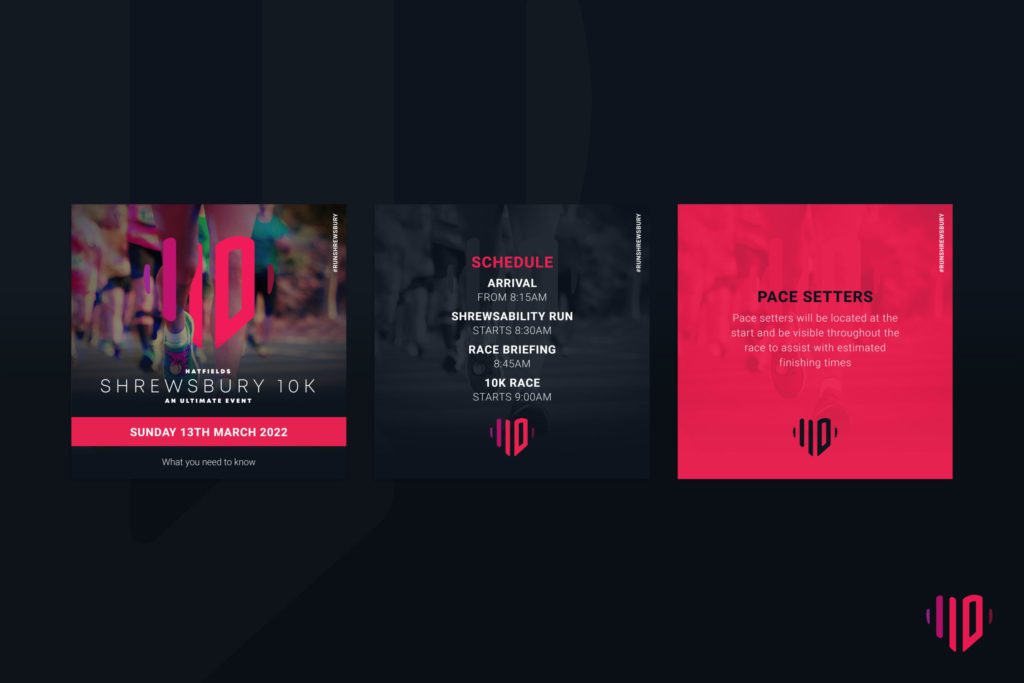 Good luck, Tom & Faye!
After taking part last year, Faye Hudson, one of our Client Marketing Managers, will once again be donning her running shoes to compete in the Shrewsbury 10K event. Tom Williams, one of our Graphic Designers, will also be taking part this year too as a representative of Reech. We wish Faye, Tom, and everybody else competing the very best of luck!