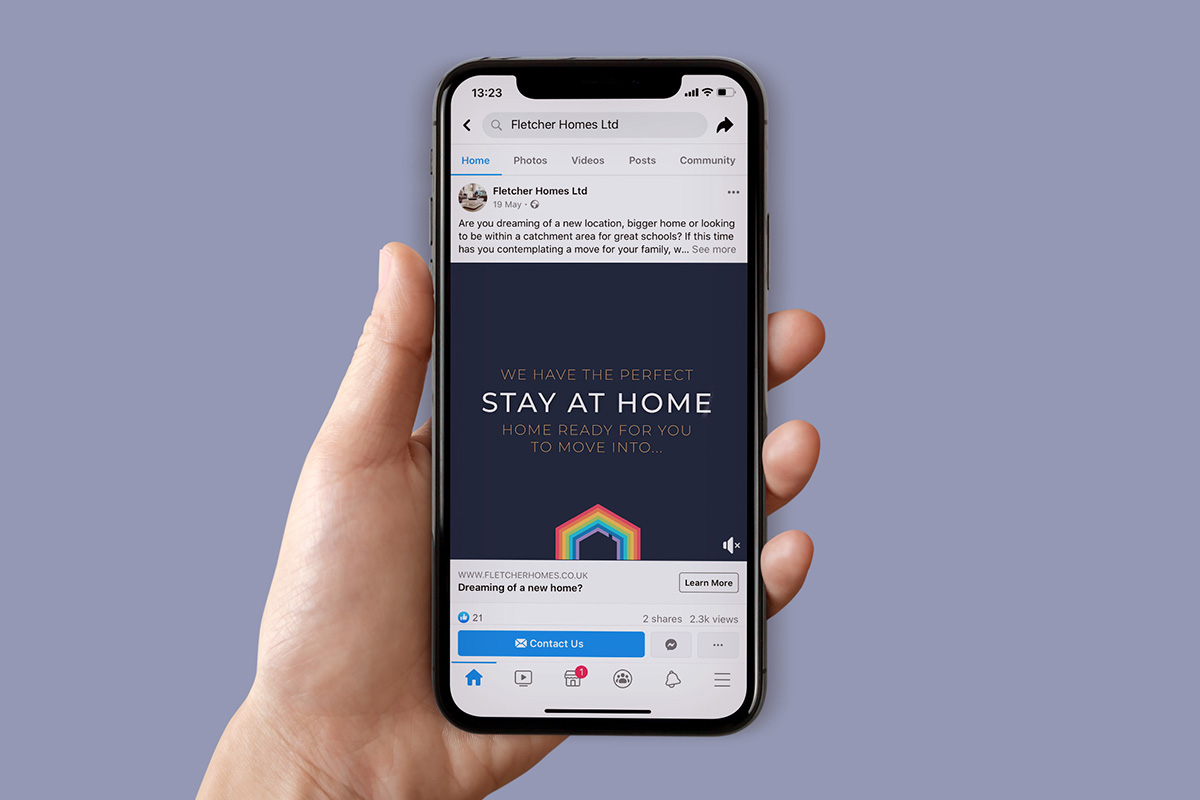 Here at Reech, we love a challenge. So, when our long-standing client, Fletcher Homes, asked us to find a way to market to prospective home-buyers during a national lockdown, we developed social media campaign that provided real results in just 2 weeks: 'Perfect Stay at Home Homes'.
Engaging home-buyers during a lockdown
Like many businesses throughout the UK, our clients have faced hurdles as a result of COVID-19. The inability to meet with customers face-to-face, invite them into their stores or showrooms and the social distancing measures have all meant businesses have needed to adapt to survive.
The problem
As a housing developer, Fletcher Homes were not permitted to allow prospective buyers to physically view developments. As the purchase of a home is very much about the visual, we came up with a campaign idea that allowed them to experience the feel of viewing a new home, whilst in the comfort (and safety) of their current home.
The solution
We developed the campaign, 'Your Perfect Stay at Home Homes', which focused on the buyers' ability to view prospective homes virtually, utilising social media to push the campaign out. This was to be achieved through a series of promotional videos and posts that were utilised on social media including:
A promotional 'Stay at Home Homes' video that utilised stunning photography with key messaging

A series of video tours of different available models, each with voiceovers describing the main selling points of the property
Promotion of 'Virtual Viewing' which allowed buyers to book a video tour with a member of Fletcher's sales team for a more in-depth tour of their preferred property
The goal was to increase traffic to the Fletcher Homes website and, in turn, increase the number of enquiries for current and future homes. Of course, the ultimate goal was to obtain sales leads that led to sales!
A team effort
A campaign like this required several specialities, from design and photography to videography and social media. Our team worked collaboratively to develop a concept, strapline and campaign brand. We wanted to combine the branding of Fletchers with the 'Stay Safe, Stay Home' message, ensuring a clear call to action and the benefits of owning a build from Fletcher Homes.
The results
The campaign ran for 11 days, starting with a paid advertisement on Facebook with subsequent organic videos and carousel posts were scheduled onto Fletcher's Facebook and Instagram channels. Through a carefully devised and managed campaign, we achieved the following:
+5,000 video views
+34,000 reach on Facebook
The Fletcher Homes website saw a 272% increase in users
62.6% of visitors to the Fletcher Homes website came via social media

They received an increase in enquiries & reservations during the week of the campaign.
Got a challenge for us?
We're always looking forward to our next challenge – have you for an idea for a campaign you want to see realised? Or do you need some help with meeting your business objectives with the development of a bespoke campaign?
Get in touch today to discuss your ideas – drop us an email at [email protected] or call us on 01743 296700.