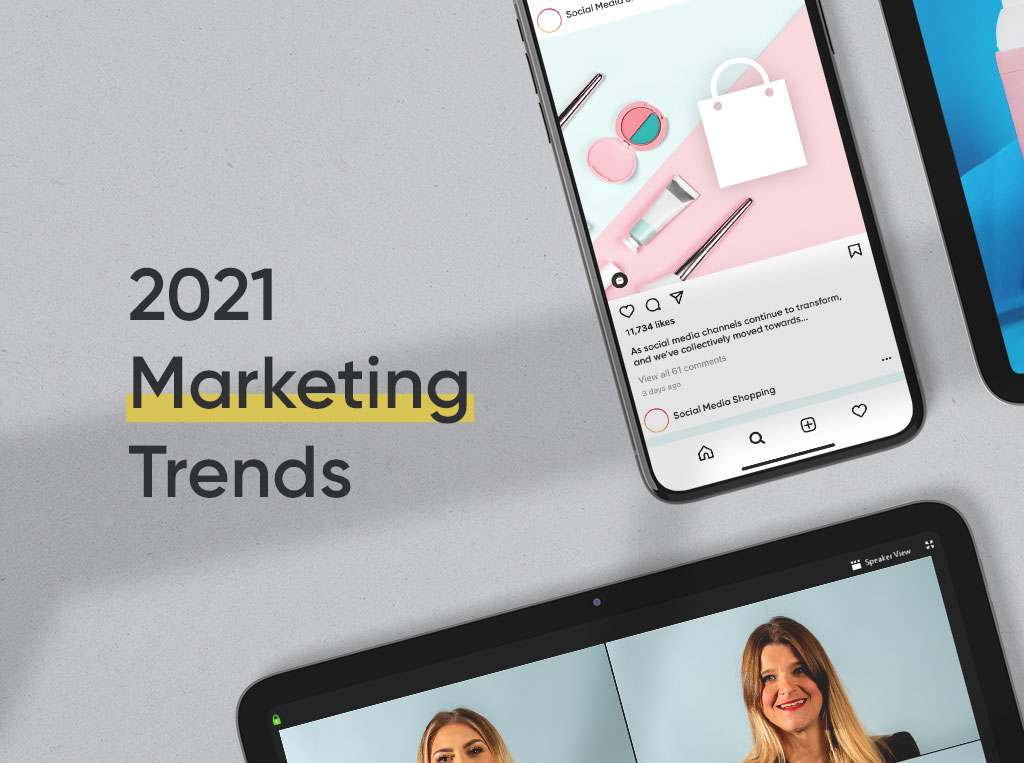 Whilst 2020 has proven to be a year that none of us will forget, it's time to turn our attention to 2021 and the marketing trends that we anticipate will lead the way as technology develops and consumer tastes change. Keep reading to find out more!
The rise of Social Media shopping
At one time, social media would have just played a preliminary part in the customer buying process; we'd head over to Instagram to see how people have styled that jacket we'd seen before visiting the store or website to purchase it.
As social media channels continue to transform, however, and we've all collectively moved towards a contactless way of shopping (in light of COVID-19), there's no longer such a clear distinction between scrolling and shopping. Earlier this year, Instagram introduced a dedicated shopping feature on the menu bar of business profiles, allowing users to browse collections and purchase products without leaving the app itself. We expect both businesses and consumers to benefit from this feature in 2021 and, with such a shift towards online shopping, it's clear that e-commerce stores must keep up with this trend or risk being left behind.
More brand collaborations
As we head into a new year, you can expect to see more marketing partnerships between brands and celebrities and/or social media influencers over the course of 2021.
Brand collaborations are a great cross-marketing opportunity because it can effectively double the exposure for both parties.
A fantastic way to drum up a storm and create a buzz on social media channels, both the brand and the celebrity/influencer can reap the benefits of increased growth and a greater audience reach.
A great example from this year is the Crocs X Justin Bieber collaboration. Back in Autumn, the global singer paired with the world's most divisive shoe brand(!) to create a style of Croc that was so popular, it pretty much flew off the shelves.
Be sure to keep your eyes peeled as we only expect brand collaborations to get bigger and better in 2021.
Virtual events are here to stay
Due to social distancing measures, virtual events have become a by-product of the Coronavirus pandemic and our approach to towards both hosting and attending them has fundamentally changed.
Though virtual events have become a bit like marmite, businesses as a whole have benefitted from an innovative and cost-effective way to engage and interact with customers – without the additional expenditure that comes with traditional face-to-face events. With the cost of travel, venue hire and catering all eliminated, virtual events are a great way for businesses to maximise return on investment (ROI).
With more flexibility and the ability to go global, virtual events have proven to be of great value. Love them or hate them, we believe virtual events will become an integral part of marketing strategies in 2021 (and beyond)!